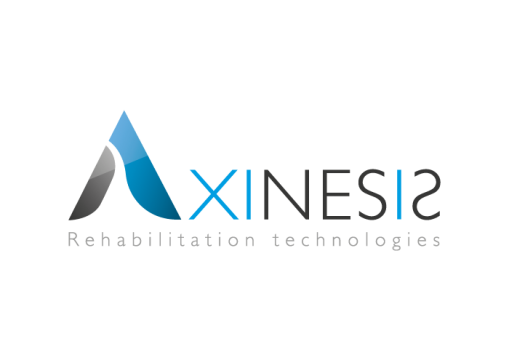 Axinesis, the Walloon company specialized in medical devices for neurological rehabilitation, announces the CE mark for its new product, the REAtouch®.
It is a medical device for patients suffering from motor and / or cognitive impairments, due to brain injuries. While making the rehabilitation of arms and hands attractive, the REAtouch allows for more than 1,000 movements per session, an intensity that is impossible to achieve with classic rehabilitation.
By making revalidation rooms and physiotherapists difficult to access for patients, the COVID-19 pandemic motivated the Axinesis team to work on a "portable" version of REAtouch: the REAtouch Lite. This next product is currently in development and will enable rehabilitation at patient bedside or at home.
To ensure its ambitions in terms of geographic expansion and range extension, Axinesis is raising now additional funding.
With more than 1,000 movements per session, the REAtouch® generates 15 to 20 times more activity than a conventional re-education (more photos on: https://vives.pressroom.kalamos.be).
"To reach his top level in tennis, Rafael Nadal practices the same movement thousands of times. People with a brain injury stimulate their motor learning just like top athletes. The intensive repetition of movements forms the basis of their therapy. Since it quickly becomes tedious to repeat the same movements permanently, our challenge is to make these continuous iterations fun and effective. Axinesis has more than 40 therapeutic software programs suitable for children, adults and the elderly: they have been designed in collaboration with experts in order to make the "right" therapeutic movements. Our platform also enables a continuous monitoring of the progress every patient makes and adapts automatically the therapy level. It is a tremendous support for the therapist and above all very stimulating for patients who, like real athletes, are encouraged to keep pushing their limits!" explains Julien Sapin, founder and technical director of Axinesis.
The REAtouch® presents itself as a very large interactive tablet, with a diagonal of 1 meter and electrically adjustable in height and inclination. It offers on-screen activities that stimulate movements for patients while interacting with the tablet. This interaction takes place either directly or by manipulating objects of multiple shapes. The device engages both arms simultaneously and offers an infinite combination of activities. With more than 1,000 movements per session, the REAtouch® generates 15 to 20 times more activity than a conventional therapy.
A "COVID-19" version
In the context of the COVID-19 pandemic, we have been contacted by healthcare professionals who are coping with the difficult accessibility of therapy rooms for patients, explains Julien Sapin. "The demand for a more compact and lightweight device, which can be used directly at patient bedside, has therefore emerged. It is our priority to make this portable version as soon as possible available to patients". This health crisis also showed the importance of being able to offer telerehabilitation sessions at home, enabling supervision and interventions from a health professional remotely, to ensure the quality of the therapy. The REAtouch Lite and its integrated software satifies perfectly this medical need while responding to strong demands, like connected health and medical applications, functional and intensive rehabilitation at home, integration of rehabilitation into everyday life and diminishing cognitive decline for the elderly.
Yannick Bleyenheuft, Professor at the Institute of Neurosciences at the University of Louvain (ULC), supports this new project with great enthusiasm. The idea of implementing intensive functional rehabilitation in Belgium was created following the presentation of Yannick's thesis in 2009 and developed during her post-doctorate in collaboration with Columbia University in New York. She therefore follows with great attention the development of Axinesis: "a consortium of renowned Belgian and international researchers has agreed to collaborate with Axinesis and my team, for the evaluation of the device in a clinical context", specifies she.
Professor Thierry Lejeune, Head of the Department of Physical Medicine and Rehabilitation at the Saint-Luc University Clinics, is also in full support for the development of this project, which will promote the continuity of care: "self-rehabilitation makes it possible to increase the re-education provided, in quality and quantity, as a complement to traditional approaches. This is especially true when the patient returns home. During this COVID epidemic, telerehabilitation took an important place in the care of chronic patients who could no longer access their rehabilitation centers. This also motivated the authorities to fund telemedicine."
A new page in the history of Axinesis
With the CE marking of REAtouch® and this new portable version in development, Axinesis starts a new page in its history.
The small start-up founded in 2015 now evolves into the status of scale-up, by offering a wider range of products. Since 2017, the company has marketed a first robotic medical device (the REAplan®), enabling the patient to make an arm movement by mobilizing her hand to a certain target, whether or not with assistance of the robot. REAtouch® - the second product - is intended for patients who have already recovered certain motor skills, while REAtouch Lite – the third product - will pave the way for self-rehabilitation, in specialized centers or at home.
Commercial agreements in France, Germany and Switzerland have been established with various hospital groups. Customers from other countries show interest, because the advantages of the interactive technologies of Axinesis are significant: very short installation time for the patient, long intensity of movement, low cost of use, very large target audience (children and adults), etc.
Rehabilitation needs are important: every year, more than 5 million people in the world are confronted with disabilities following a stroke and there are a significant number of children with cerebral palsy, which affects more than 2 births per thousand.
To ensure its ambitions in terms of geographic expansion and portfolio extension, Axinesis is raising additional funding at the moment.
About Axinesis
The founder and engineer, Julien Sapin (UCLouvain), who is specialized in the development of rehabilitation robotics since 2006, was inspired by the impressive results obtained with intensive functional therapy. Axinesis' mission is to improve the functional recovery of patients using innovative technologies dedicated to the rehabilitation of the upper limbs of patients with brain injuries. Based in Wavre, Axinesis has already been able to treat more than 3,000 patients since 2017. The company offers a response to the broad needs of rehabilitation centers in stroke, cerebral palsy and spinal cord injury, Parkinson's disease or multiple sclerosis, etc.
Press contacts:
Julien Sapin, Founder and Technical Director AXINESIS
+32 (0) 10/22 64 26