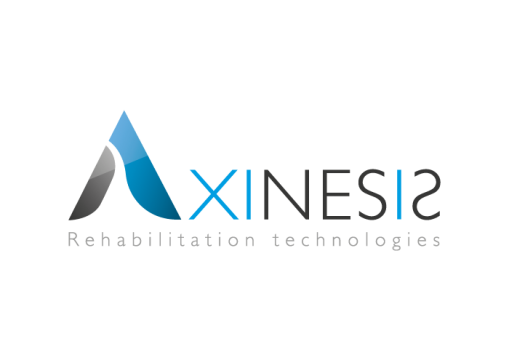 - Axinesis, the Walloon company specializing in medical devices for neuro-logical rehabilitation, announces today that it has obtained CE marking for its new product, REA-touch®.
- This medical device is intended for patients suffering from motor and / or cognitive impairments. By making the rehabilitation of arms and hands fun, the REAtouch allows more than 1000 movements per session, an intensity impossible to achieve in "classic" rehabilitation.
- By making it impossible for patients to access the revalidation rooms, the COVID-19 is pushing the Axinesis teams to work now on a "portable" version of REAtouch: the REA-touch Lite. This next product is currently in the development phase to allow, among other things, rehabilitation "at the patient's bed" or at home.
- To ensure its ambitions in terms of geographic expansion and range extension, Axinesis is in the fundraising phase.
- With more than 1,000 movements per session, the REAtouch® generates 15 to 20 times more activity than a conventional re-education.
Wavre, May 14, 2020 - "To reach the highest level in his sport, Rafael Nadal repeats his movements thousands of times. People with brain damage stimulate their motor relearning like these top athletes. For them, intensive repetition is the basis of therapy. But repeating the same movements over and over again quickly becomes long and tedious. Our challenge is to make this rehearsal fun and more effective. Axinesis has more than 40 therapeutic software programs suitable for children, adults and the elderly: they have been designed in collaboration with practitioners in order to make the "right" movement. In addition, our platforms make it possible to assess, for each patient and each session, the improvements made and the adaptations required in terms of therapy. It is both enriching for the medical profession and above all very stimulating for the patient who is encouraged, like a sportsman, to push his limits by obtaining an objective score after each exercise! " explains Julien Sapin, founder and technical director of Axinesis.
The REAtouch® is presented in the form of a very large interactive tablet (1 meter diagonal), with electrically adjustable height and inclination. It offers on-screen activities that stimulate movement in patients to interact with the tablet. This interaction takes place either directly or by grabbing objects of multiple shapes. The device makes both arms work simultaneously and offers an infinite combination of activities. With more than 1000 movements per session, it generates 15 to 20 times more activity than a conventional therapy.
A "COVID-19" version
"In the context of the COVID-19 pandemic, we have been contacted by health professionals who face the impossibility of accessing the rehabilitation / occupational therapy rooms with the patients, details Julien Sapin. "The demand for a more compact and lightweight device, which can be used directly" at the patient's bed "has therefore emerged. We are doing our best to be ready very quickly with this portable version ".
This health crisis also showed the importance of being able to offer telerehabilitation sessions at home under the supervision of a healthcare professional working remotely in order to ensure the supervision of therapy. The REAtouch Lite and its embedded software perfectly meet this medical need by highlighting strong concepts: connected health and medical applications, functional and intensive rehabilitation at home, integration of rehabilitation into everyday life and brake on cognitive decline in the elderly.
Yannick Bleyenheuft, Professor at the Institute of Neurosciences at the UCLouvain, supports this new project with great enthusiasm. The idea of implementing intensive functional rehabilitation in Belgium was born following the defense of his thesis in 2009 and was developed during his post-doctorate in collaboration with Columbia University in New York. It therefore follows with great attention the development of Axinesis: "a consortium of renowned Belgian and international researchers has agreed to collaborate with Axinesis and my team in the evaluation of the device in clinical context", she specifies.
Professor Thierry Lejeune, Head of the Department of Physical Medicine and Rehabilitation at the Saint-Luc University Clinics, is also fully supportive of the development of this project, which will promote continuity of care: "self-rehabilitation makes it possible to increase the rehabilitation provided , in terms of quality and quantity, as a complement to conventional approaches. This is especially true when the patient returns home. During this COVID epidemic, telerehabilitation took an important place in the care of COVID patients and chronic patients who could no longer go to their rehabilitators or to rehabilitation centers ". This also led the state to fund this telemedicine.
A new page for Axinesis
With the CE marking of REAtouch® and this new portable version project in development, Axinesis begins a new page in its history.
The small start-up founded in 2015 now has the status of "scale-up", by offering a wide range of products. Since 2017, the company has marketed a first robotic medical device (the REA-plan®), making it possible to assist the patient, according to their abilities, to mobilize their arm by bringing their hand where it needs to go. REAtouch® - the second product - is intended for patients who have already recovered certain motor skills, while REAtouch Lite - third product - will pave the way for self-rehabilitation, in specialized centers or at home.
Commercial agreements in France, Germany and Switzerland have been established with various hospital groups. Customers from other countries, including Belgium in particular, show interest, because the advantages offered by Axinesis interactive technologies compared to the conventional approach are significant: very short patient installation time, high intensity of movements, low cost of use, very large target audience (children and adults), etc.
Rehabilitation needs are very great, with more than 5 million people worldwide suffering from disabilities following a cerebrovascular accident (stroke) or a significant number of children with cerebral palsy, which affect more than 2 births per thousand.
To ensure its ambitions in terms of geographic expansion and range extension, Axinesis is in the midst of a fundraising phase.
About Axinesis
The impressive results obtained through intensive functional rehabilitation have inspired engineer Julien Sapin (UCLouvain) who has specialized in the development of rehabilitation robotics since 2006.
Axinesis' mission is to improve the functional recovery of patients using innovative technologies dedicated to the rehabilitation of the upper limbs of patients with brain damage.
Based in Wavre, Axinesis has already been able to treat more than 3,000 patients since 2017. The company offers a response to very varied needs encountered by rehabilitation structures, including in particular stroke, cerebral palsy and adults with spinal cord injury, Parkinson's disease or multiple sclerosis, etc.
About Vives
VIVES Louvain Technology Fund (€ 43M created in 2011) is an investment fund which has invested mainly in UCLouvain spin-offs. VIVES Inter-University Fund, the third fund, is being created for a first closing at € 25M. VIVES is managed by SOPARTEC, the technology transfer and investment company of UCLouvain. VIVES has invested in around twenty companies which, together, have raised more than 500 million euros through public and private funding.
Press contact :
Julien Sapin, Founder and Technical Director of AXINESIS
+32(0)10/22 64 26
julien.sapin@axinesis.com